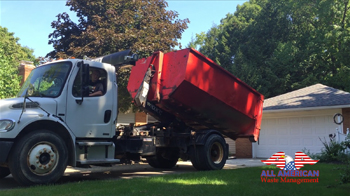 Residential Dumpster Rentals Cuyahoga County OH
Here at All American Waste Management we offer a full line of roll-off dumpster rental service. We are best dumpster rental service in Cleveland, Ohio and surrounding areas. The sizes range from 10, 12, 15 and 20 yard containers. When you call All American Waste Management you receive fast and expert service where you talk to real live representative from our company. Waiting more than 24hrs to receive a container or a pickup is a thing of the past, we even do same day delivery.
With our small roll-off truck, we can deliver our 10 yd containers to the narrowest of driveways without doing the damage that a full size truck would do to the property. We protect your driveway by putting down wooden boards that ensure that your driveway and property are safe from any damages or destruction.
Looking to Rent a Dumpster in Cuyahoga County OH? Please call us at (440) 571-7662