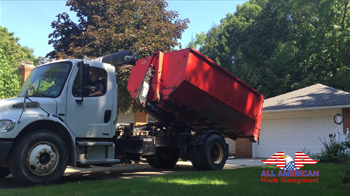 Residential Dumpster Rentals Meigs County OH
At All American Waste Management we are committed to keeping your business running smoothly when it comes to waste removal. With other waste management companies you usually call and speak with a representative who may not even be in the same state as you. They are middleman who takes down your information and relays it to the company that you are trying to get in touch with. This causes confusion that can lead to either a miscommunication in service details or a delay in delivery time.
With All American Waste Management you don't have to worry. You speak with one of our representatives that can provide you excellent service as soon as you need it. You can even get a dumpster delivered the same day that you call. No confusion, no call center, and always someone to help when you call All American Waste.
Need a Dumpster for Rent in Meigs County OH? Please call us at (440) 571-7662