Dumpster Rental Pricing in North Ridgeville OH, Please Call (440) 571-7662 For Lowest Prices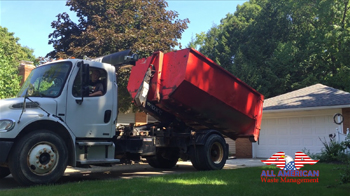 Residential Dumpster Rentals North Ridgeville OH
Here at All American Waste Management we offer a full line of roll-off dumpster rental service. We are best dumpster rental service in Cleveland, Ohio and surrounding areas. The sizes range from 10, 12, 15 and 20 yard containers. When you call All American Waste Management you receive fast and expert service where you talk to real live representative from our company. Waiting more than 24hrs to receive a container or a pickup is a thing of the past, we even do same day delivery.
With our small roll-off truck, we can deliver our 10 yd containers to the narrowest of driveways without doing the damage that a full size truck would do to the property. We protect your driveway by putting down wooden boards that ensure that your driveway and property are safe from any damages or destruction.
Looking to Rent a Dumpster in North Ridgeville OH? Please call us at (440) 571-7662
Construction Dumpster Rentals North Ridgeville OH
We specialize in institutional, industrial, and commercial waste removal. We have the ability to service schools, industrial complexes and other large scale operations. We partner with corporate organizations to make sure your unwanted trash is taken away when you need it gone.
For home remodel and construction jobs, construction roll-off dumpsters are the perfect solution. Construction dumpsters work well for any size home renovation or construction project; from a small kitchen remodel to the largest home building jobs.
Construction dumpster rentals can accommodate all kinds of building material, including lumber, glass, siding, drywall, flooring, tile, windows, and much more.
Rent a Dumpster North Ridgeville OH - Perfect For Construction Projects
Same Day delivery of dumpsters for all home improvement contractors
Same Day delivery of dumpsters for all construction contractors
Fully Insured. Certificates provided to all contractors same day as requested
Same Day delivery of dumpsters for all renovation contractors
Our Stop, Drop & Roll Service - So easy those other companies simply can't compare.
Rent a Dumpster North Ridgeville OH - Perfect For Residential Projects
Removing Old Appliances, Mattresses, Furniture
Spring Clean Up
Removing Old Carpet, Drywall, Roof Shingles
Preparing Your House For Sale
Taking Back Your Garage From Clutter
Dumpster Rental in North Ridgeville on Short Notice
All American Waste Management is your premier source for construction and residential dumpster rentals in North Ridgeville OH. We are often able to have a roll off container on your job site same day or next day. We have increased our capacity of dumpsters as well as our team members to ensure that our customers to get better dumpster service.
Our dumpsters are available and ready to haul off debris no matter where you are located or what you need hauled away. We work with builders, contractors, landscapers, homeowners, industrial companies and anyone who has a large amount of debris and needs reliable waste disposal company to come and take it away for them.
Make Use of Our Residential Roll-Off Containers in North Ridgeville OH For:
Home Improvement Projects: If you are involved with a home improvement project of any kind, you need a roll-off dumpster in North Ridgeville OH to handle all the unwanted waste and debris.
It doesnt matter if you are doing it yourself, contracting the work to a professional, working on a small bathroom or doing a full-scale reconstruction project, our containers can help you get rid of all junk accumulated during the job; including household debris, drywall, flooring, tiles, roofing, siding and much more.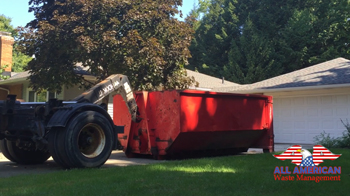 Junk Removal or Home Clean Outs:Everyone has some unwanted junk lying around, but if its been a while since you have gotten rid of the clutter in your home, a renting a residential dumpster might be the best place to start.
Our residential dumpster containers in North Ridgeville OH will save you countless trips to the curb or junk yard; these containers can hold all kinds of furniture, garage and attic debris and anything else you need to throw out. If youre not sure where to begin, feel free to check out our guide on decluttering your house.
Disaster or Storm Clean Up: Heavy rains, wind, hail, floods, tornadoes, hurricanes and other major storms can create many headaches for affected land owners. Most of the time, homes affected by natural disasters only sustain a small amount of damage.
However, even minor damage can create a major mess that needs cleaning. Our residential roll-off containers can help you remove items damaged by the storm, allowing you to more quickly and easily restore your property to the condition it was in before the storm.
Home Restoration: A home restoration project is a major undertaking. A dumpster in North Ridgeville OH will be needed to remove all the old, decayed and damaged items within the dwelling you are restoring.
We are able to get rid of the majority of construction debris and municipal solid waste, provided it contains no materials that would be considered hazardous, like asbestos and infectious waste. For further details, take a look at our list of banned items.
Landscaping Projects: Major landscaping jobs necessitate the removal of asphalt, concrete, dirt and similar material. We have a residential dumpster to accommodate your landscaping needs.
Heavier materials typically require specialized containers. These containers are also a great tool for getting rid of other general yard waste. Find out more about our dumpster rentals for landscaping.
Moving: Relocating is the perfect time to take a look at your belongings and throw out stuff you dont want or need any longer. Why would you want to hold on to things youve not seen or used in many years anyway?
If you have a large amount of stuff to get rid of before moving, we have a residential roll-off container to accommodate your needs.
If You are Looking for a Roll-Off Dumpster in North Ridgeville OH, Please Call Us at (440) 571-7662